History

In 1998, with the goal of meeting an unmet need in the Wrentham area, the non-profit Pond Home Board of Trustees hired their existing management company, Rogerson Communities to plan and develop the independent living site for elders, now known as The Community at Pond Meadow. The Pond Home had approximately 50 undeveloped acres of land behind and adjacent to their property available for this project. After visiting numerous sites around the state it was decided that single story cottage homes with a community center was the way to go.
A groundbreaking ceremony was held in November 1998, with construction beginning in early 1999. In the late summer of 1999, Phase 1 (22 units) was ready for occupancy. The third and final phase, bringing the total number of units to 66, was completed in the early winter of 2000. All units where committed to prior to their completion, and the community has remained at or near capacity ever since.
The community was incorporated as a separate non-profit from its affiliate, Pond Home from the beginning. It is governed by a Board of Directors, which includes up to three resident members. The residents make up the Resident Council and Activity Committee members.
Road Names for the Community where picked with great care by a Board committee during the construction process. The main road is Pond Meadow Drive with the off shoot roads where each cottage is located named after people from Wrentham's history. Here is a listing of the street names and the person they where named for:
Chickering Way – Francis Chickering – in 1647 explored what was then called Wollomonopoag, coming from Dedham by water- the Charles River to the Eagle Brook.
Samuel Man Way – Samuel Man was Wrentham's first minister (Congregational) and a Harvard graduate.
John Druce Lane – John Druce was the first physician in Wrentham to graduate from medical school, Harvard class of 1783.
Moses Whitney Way – Moses Whitney established a tavern at 485 South Street in 1818 and the story goes, "That a lot of town business was transacted there."
Enoch Pond Lane – Enoch Pond was born to a prominent Wrentham family and graduated from Brown University in 1777. He became a Congregational minister in Connecticut.
Virgil Pond Way – Virgil Pond was a prominent leader in town. His portrait hangs over the mantel in the living room of Pond Home. His family donated the original Pond Home (in what was then Pondville) in 1902.
Affiliations

Pond Home - Gracious Retirement Living
Pond Home is a private, interdenominational nonprofit home that was organized and incorporated in 1899 by a philanthropic organization, the King's Daughters and Sons of Norfolk County to provide care for elders 65 and older. A volunteer Board of Trustees oversees professional management of Pond Home by Rogerson Communities, a recognized leader in not-for-profit management of elder housing and health services. www.pondhome.org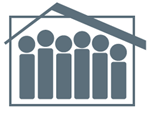 Rogerson Communities - innovative Solutions in Housing and Health Services since 1860
Rogerson Communities helps elderly and low-income men and women. This assistance, across generations and with attention to the diverse cultural traditions of our society, includes housing, health care and supportive services. Our programs respect and enhance each person's dignity, self-reliance and vitality.

Providing leadership and innovation, we work cooperatively with other organizations and with our neighbors to create and maintain programs for living that offer both security and challenge. www.rogerson.org
Contact Us
Tel: (508)384-3000
Fax: (508)384-9323
Address:
The Community at Pond Meadow
279 East Street
Wrentham, MA 02093
A Choice of Home Styles
Find out about our home options
Services and Amenities
What Pond Meadow has to offer
Virtual Tours and Galleries